We are experiencing a heat wave here in Michigan- temps up in the 90's. I ran early today just to get it done before the heat started to rise.
This is what we were up to this weekend-
On Friday, Dave brought home a pizza from this new place called MOD Pizza. After working all week it was so nice just to relax, eat pizza, and have a glass of wine. The concept of this new pizzeria is interesting. They offer you 30 topping choices for your salad or pizza, all at the same price. Yup, no more cost if you get a plain ham pizza or a total decked out Hawaiian pizza. The sauce was amazing and they had the best crust I have ever eaten on a pizza before. I highly suggest you give them a try. We ordered carry out, but next time we will have to enjoy the pizza in the dining space-they even have craft beer! We had a race in the morning so we watched an episode of House of Cards and turned in early.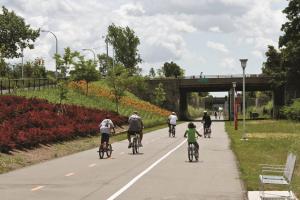 Saturday morning found us heading towards Detroit for the
Riverfront Run.
I ran the 10k while Dave ran the 5k. It was a beautiful run except for the heat. By 9:00 am we were sweating something awful, but we both placed and were happy with our results. The run included a few miles of the
Dequindre Cut,
a paved walk way from the Riverfront to the Eastern Market,
and a few miles along the Riverfront. Detroit is really making a awesome comeback!
The rest of Saturday was spent (in the heat) planting flowers and pulling weeds. We were on a mission to get the yard work done! I'll post some photos of the backyard another day .
Saturday night we watched another episode of House of Cards- we are limiting ourselves to one or two at a time so they last.
Sunday rode our bikes early to beat the heat and logged in another 20 miles. Swimming sounded like a good idea and we headed to our local health club and used their pool. All in all, another great weekend!
Running miles this week 20, biking 30.
How was your weekend?